Every month on 4cHairChick.com, we spotlight a kinky curly beauty.  Why? Because one of our main missions is to spotlight women with tightly coiled hair. This month, our guest is YouTube vlogger @Nalia1908!
I picked Nalia1908 not only because she's a curlfriend and amazing woman, but also because she is a #4cHairChick with long hair.
In the beginning of my hair journey, I wasn't sure if it was possible to grow 4c Hair past your shoulders.  I kept searching for a real life example because I needed to see it to believe it (sad, but true). And I know I'm not alone with that thought because over on the 4c Hair Chick community Facebook, we've had discussions where members have shared they used to feel the same way.
For all of us who think or used to think that long length with our texture isn't possible, Nalia1908 is a real life example that 4c Hair can grow past your shoulders.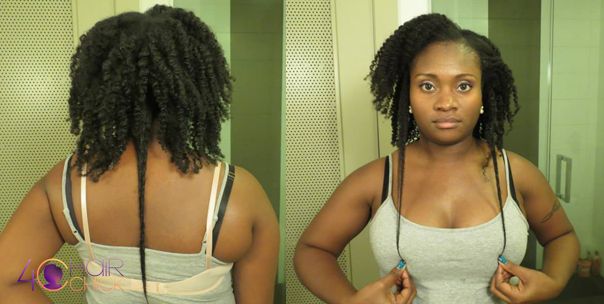 The second reason I picked Nalia1908 is because she's always been transparent about her hair loss issues and I feel like that this is a topic many women ignore because it can be embarrassing and painful to discuss.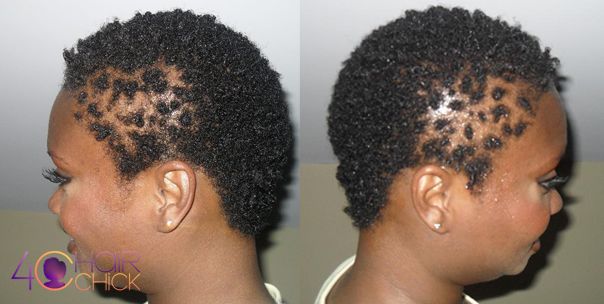 So for those two reasons and many more, congrats to Nalia1908, our 4c Hair Chick of the month!!
 Q&A with Nalia
Your YouTube name is Nalia1908, but if a channel fan was to meet you at an event what name do you prefer to go by?
Ngozi or Nalia ("N" for Ngozi "ali" is my last name and "a" to make it girlie)
In three sentences or less share with us a little bit about who you are so our readers can get to know you a bit.
I have a fun, outgoing, spunky personality. I like to make jokes and laugh with family and friends. I love watching HGTV (house hunters) and like to get ideas on what I can build myself.
What year did you start your YouTube channel and why prompted you to do it?
I started my YouTube channel in Feb 2009 but didn't start making videos until August of 2010. I started my channel out of frustration for not finding any channels where someone was talking about hair loss or addressing the needs of women who didn't have thick natural hair.
What is your main mission with your YouTube channel?
My main mission was to have videos for anyone else who may have been experiencing issues with alopecia or having difficulty styling their hair because it wasn't as full or thick as some of the other mainstream popular YouTubers.
One of the topics that you've freely discussed on your channel is alopecia and hair loss. I know for me that was one of the reasons I first started watching your channel. I had never ran into someone who was dealing with hair loss, but had your level of confidence and optimism about the issue. Can you share with our readers the specifics of your hair loss issue?
I have what is know as Androgenetic Alopecia, which is male-pattern balding. It affects the temples (edges) and crown area of the hair. The only medication or known product to help is Rogaine because it contains Minoxidil. So far, I have a rare case as it affects my hairline that is directly behind my edges and some parts of my edges.
Have you ever felt embarrassed or ashamed about your hair loss?
I didn't feel embarrassed or ashamed because I initially thought I was loosing my hair to relaxing. Once I found out it was hereditary, I felt like I had to just deal with it as best as possible and try to do things that wouldn't speed up the process or loosing my hair. I also knew I could wear weaves and wigs if I wanted as another option if I didn't feel comfortable (which I did the first 1.5 years of being natural).
I know you've discussed this in depth on your channel can you share 2-3 links you recommend our readers check out if they want more information on this topic?
Health Zillion

has a lot of topics related to hair loss, thinning of hair, essential oils and vitamins you can take for hair loss (http://www.healthzillion.com/hair-care/thinning-hair-remedies/).

WebMD

(http://www.webmd.com/skin-problems-and-treatments/hair-loss/hair-loss-types)

NIH

(National Institue of Health (http://ghr.nlm.nih.gov/condition/androgenetic-alopecia)).
These are my favorite resources to look for information about my alopecia condition.
Quickies:
Do you vlog full-time?
No
What industry is your full-time gig in?
Power Energy Business
What is your home town?
Detroit, MI
What are your thoughts on the natural hair revolution we're in?
I think natural hair is becoming the new norm. Many women are tired of paying hundreds of dollars for the up-keep of perms, relaxers & weaves. Many are learning about their own hair and learning how to be more self sufficient and self confident when it comes to their natural beauty and I think it will continue to grow!
Shout out three youtube channels you love to watch. One of the three needs to be a vlogger with kinky curly hair.
Ambrosia
Whoissugar
Aliciajames
Routine:
Give us a taste of what products you are currently using in your hair. Based on your last Wash Day complete the list below.
Detangler – Aunt Jackie's Knot on my Watch
Shampoo – Cream of Nature Argan Oil Moisture & Shine detangling shampoo
Conditioner – ORS – olive oil conditioning packs mixed with tresemme naturals
Moisturizers – conditioner mixture (tresemee, castor oil, olive oil, aloe vera juice and water)
Oil – Vitale Olive mixture and Softee Growth Oil (what was left)
Styler – Shea moisture Yucca and Baobab growth thicking milk and Dax olive oil leave-in and styler
***
Nalia thank you so much for spending time with us today on the blog. Before we wrap this up please leave us you contact info.
Ngozi Ali
YouTube.com/Nalia1908
E-mail: go_go16@hotmail.com
Boom! Congrats again sis. We're glad to have you as a member of this community.
***Got questions for Nalia? Leave them below. Did you learn something from this post? Tell us below.  Your comments and feedback are always welcomed***
Are you a loyal fan of this community? Make sure you're on the 4c Hair Chick Insider list http://trusu.biz/4cInsider
More Pics:
[nggallery id=1]