Event recap by 4c Hair Chick editor Trudy Susan
Years ago, a producer friend of mine put me on to K Michelle.  At the time, she was working with R-Kelly on the remix of "Echo."  If you haven't seen the making of the "Echo" remix and you're a hip hop/R&B fan, definitely check it out.  Here is one of the clips:
Since 2010, I've been loosely following K Michelle. What I liked about K Michelle right away was that she could sing and write.  She wasn't another manufactured artist. This woman had real talent.
Now, here it is three years from when I initially found out about K Michelle and tonight, Beautiful Textures has afforded me the opportunity to see K Michelle live in concert.
I really wasn't sure what to expect.  I'm not a big reality TV person, but I knew she'd been on Love and Hip Hop Atlanta.  A couple of my friends who are addicted to the reality TV life have told me that K Michelle does not play.  They said that she will tell a *igga off in a hot second and she is raw, real and rachet.
Well, the way my mind works, I'm really not one to prejudge. So I took the feedback about her with a grain of salt.  My best friend is in the music business and one of the things I've learned from my experience working with her is that when it comes to entertainment, people will make stuff up and the press can and usually does spin everything according to the needs of their business.
At the Concert
The concert was held at Center Stage in Atlanta.  Imagine a theater style venue with stadium seating and that should give you a good visual of the space. My guess is it holds about 2500 people.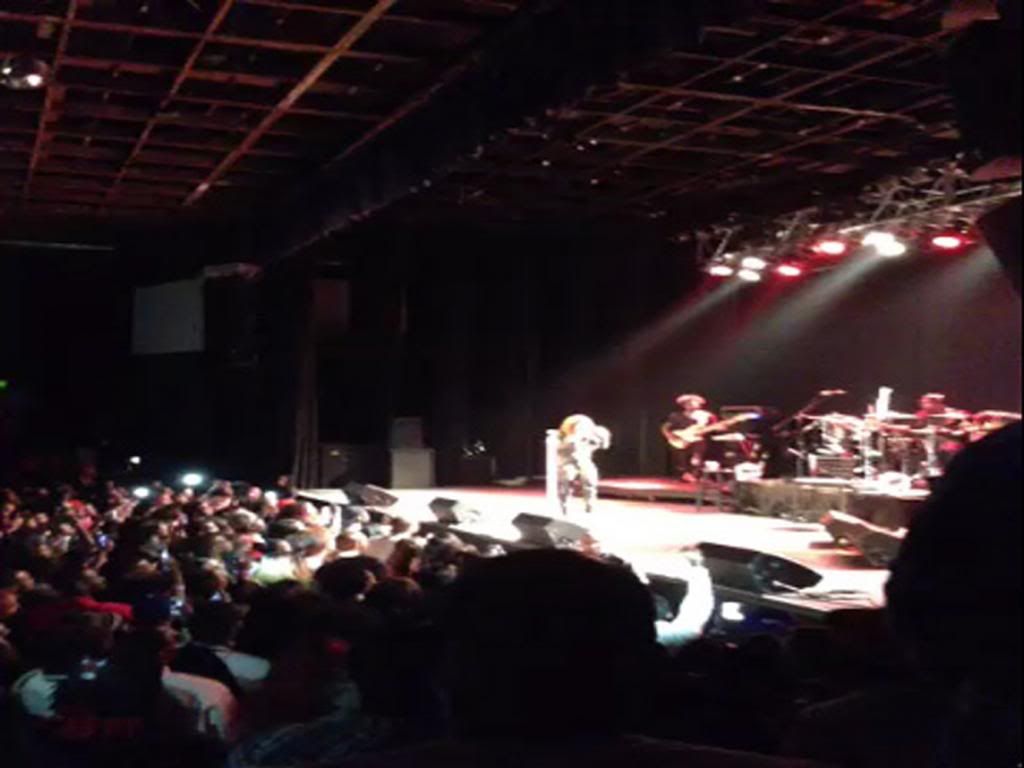 My focus when I arrived was hair.  As the editor of an online haircentric publication, I wanted to mix and mingle through the crowd and capture pictures of naturals.  To be honest, it was mostly a weave crowd, but I can't be sure if many were naturals with weaves or relaxed ladies with weaves.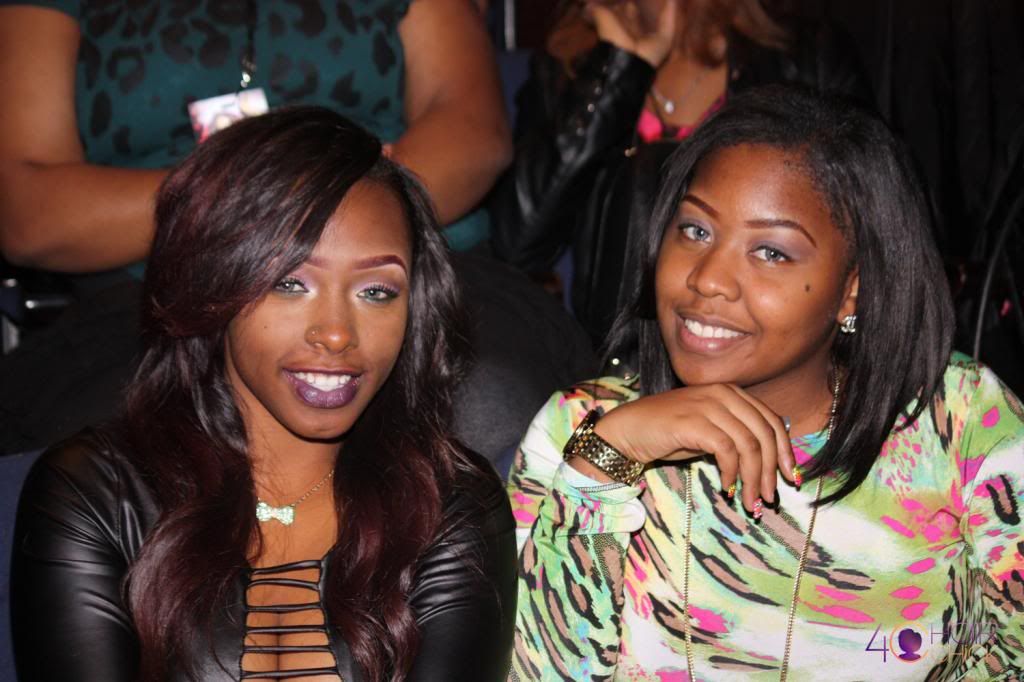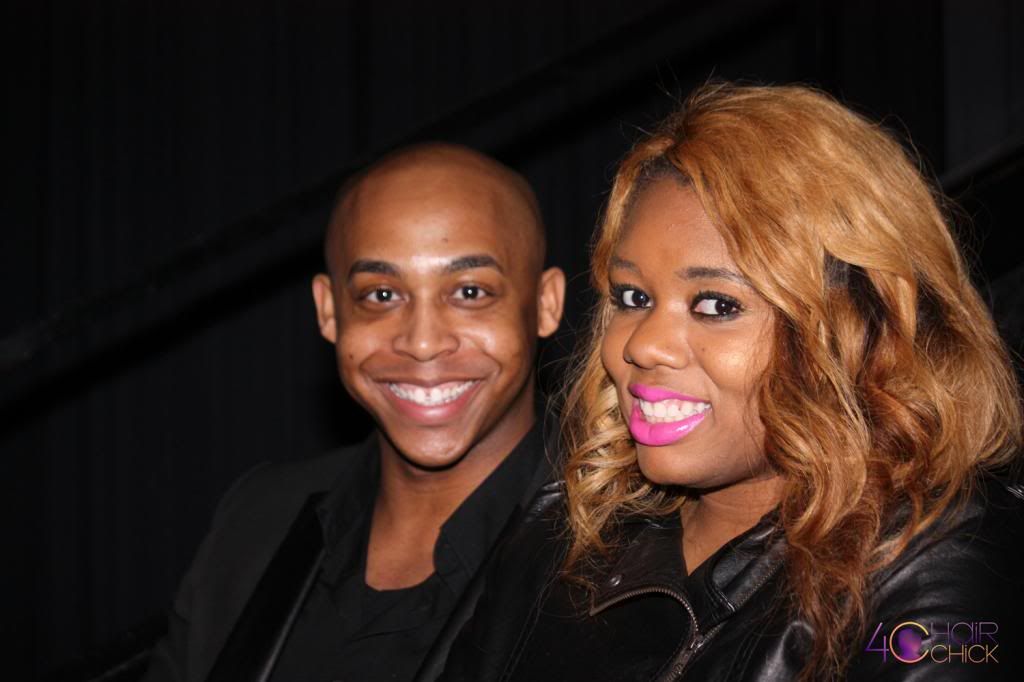 The Beautiful Textures VIP Vendor Area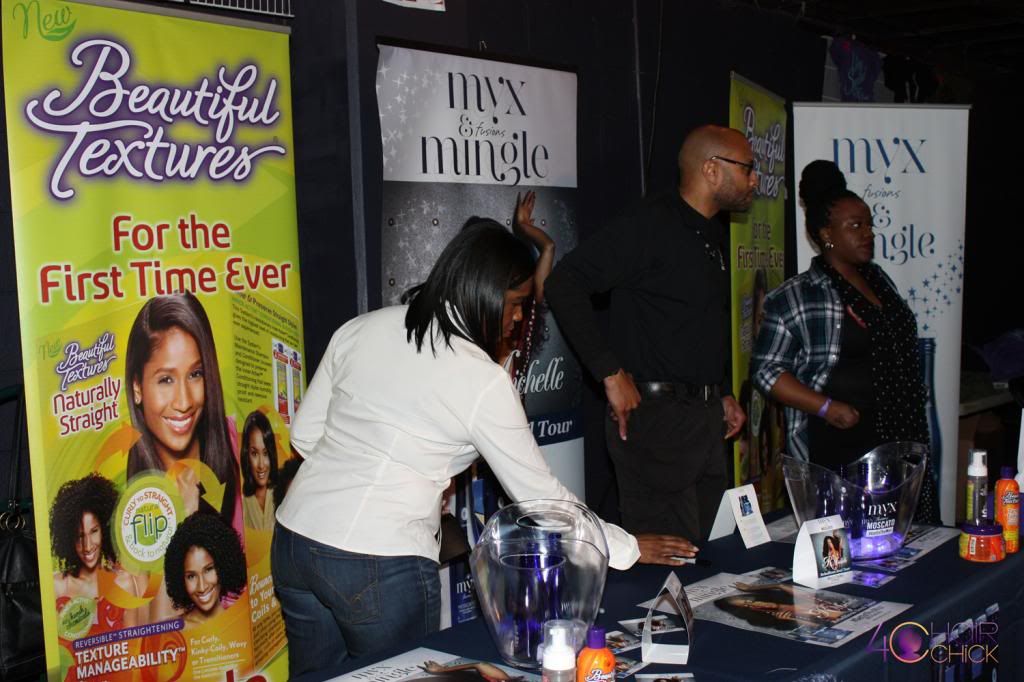 Beautiful Texture's PR team arranged my media pass for tonight's event. I was given open access to roam the venue floor as well as stage side access for picture taking.
For those unfamiliar with Beautiful Textures, they are a hair care line tailored to women with curly hair.  I first found out about the brand at a natural hair event over the summer and since then I've noticed they are very active in the natural hair community.  They sponsor a lot of events and they don't just send product; they often send a rep to present and manage a vendor table.  As someone with a background in marketing, I respect their commitment to the natural hair community.  Not all major brands take the time to give back and be active in the communities their products serve.
Beautiful Textures really took care of me tonight. I spent quite a bit of time in their VIP vendor area speaking with their staff and learning more about their hair care line.  I plan to test out one of their styling products in mid December when I pull my curlformers out of hiding.
K Michelle's Performance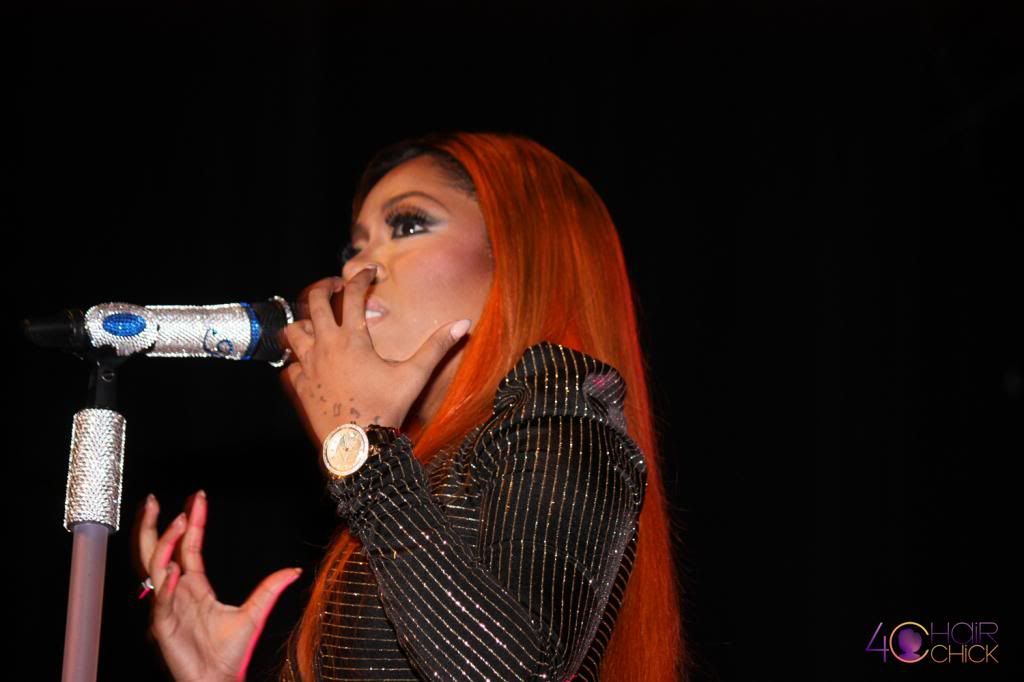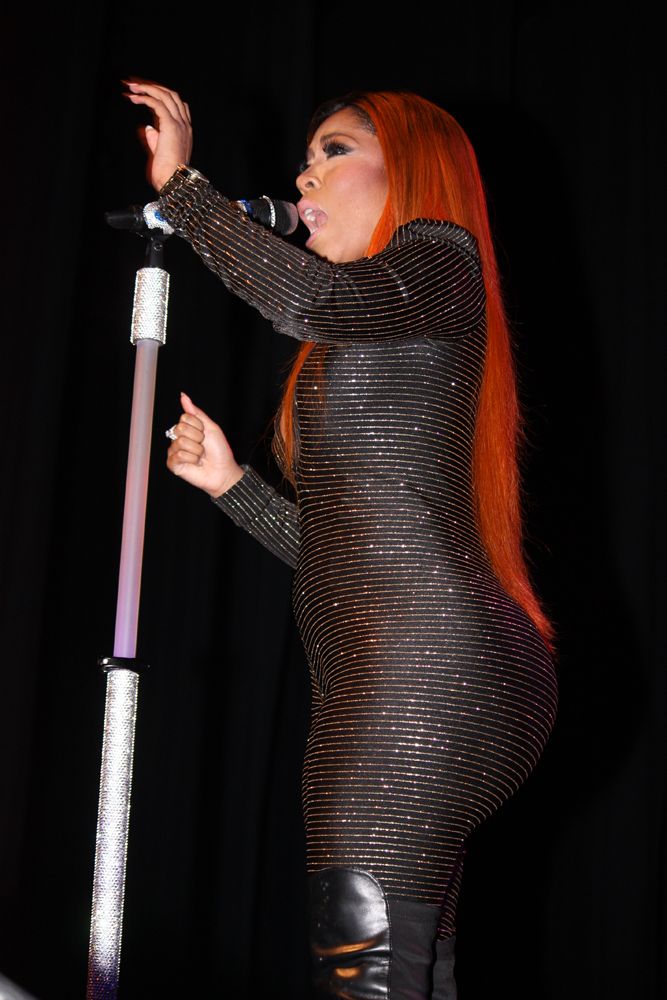 K Michelle can sang!!  It's a pity so many people know her for her escapades on Love and Hip Hop because this woman is a phenomenal singer.  Her performance really took me on a journey.  I felt like I was at a musical about her life and the topic was relationships.
She talked to the crowd throughout the whole show explaining the impetus behind some of her songs. She dished out advice here and there on "warning signs" one should look out for with men.  Her sense of humor had folks cracking up.  The crowd was singing along with most songs word for word and K Michelle was committed to everyone in attendance. She paced the stage not staying on one side longer than the other.  At certain points during the show you could see her scan faces in the audience making eye contact with her different fans.
Straight up:  I was impressed, so much so I decided to get her album. I didn't have it before, but after the concert I felt like I needed it.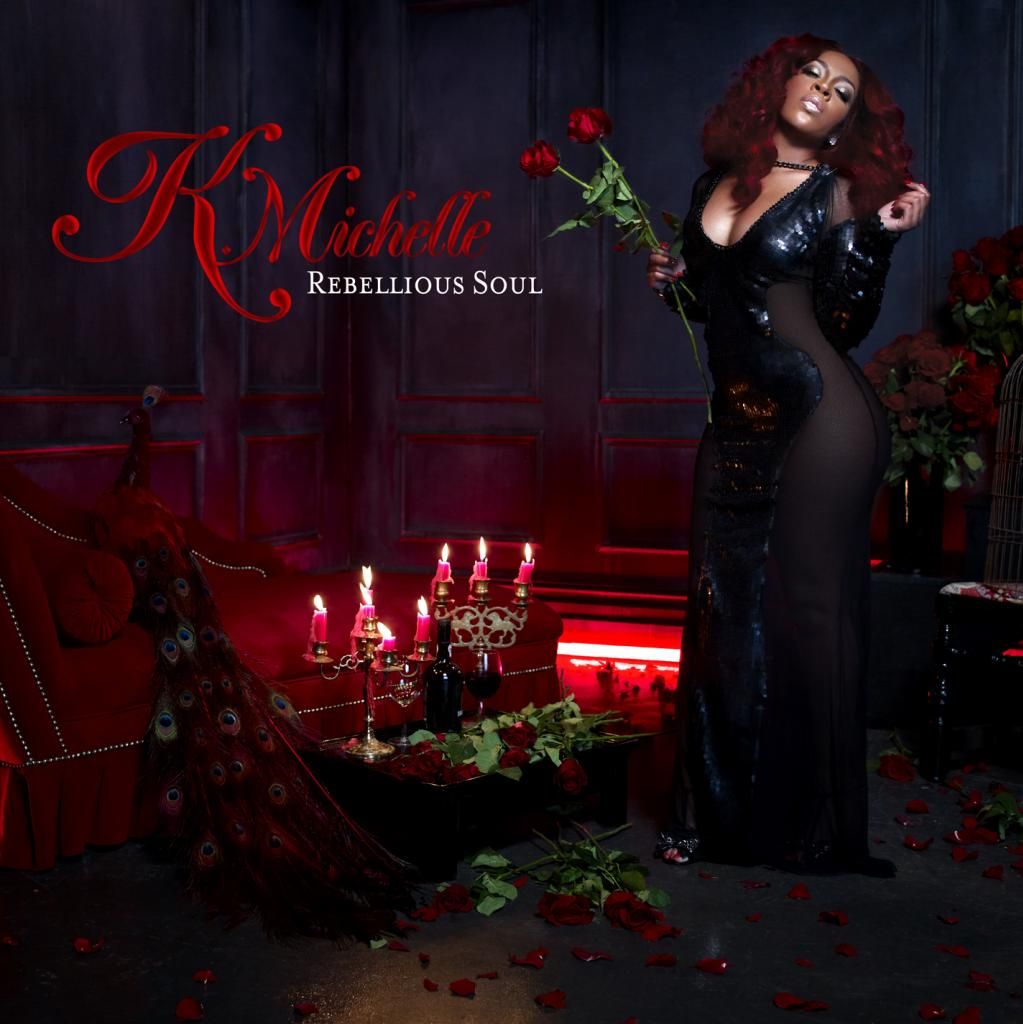 A Surprise Meeting
Tonight was truly a good time. One moment that stands out for me from this evening that I haven't had a chance to share with y'all yet, is my interview with Camilla Cruze, the brand manager of Strength of Nature (Strength of Nature is the company behind African Pride, Elastic QP, Beautiful Textures and several other brands).  Camilla is young, black and killin' it.  I love meeting women of color in positions of leadership.  It inspires and motivates me every time.  I always keep in perspective that it has not been that long since the civil rights movement and though we still have a ways to go we've come a long way.  As someone who had to fight her way up the corporate ladder, when I meet women like Camilla I get excited because it's proof positive that more and more of us are making boss moves.
In a future post, I'll share with you the interview I did with Camilla Cruze and her thoughts on the natural hair movement. Stay tuned!
Put a Bow on It
That my friends is the download about my K Michelle and Beautiful Textures experience.  My advice to you is if you have the opportunity to go to one of K Michelle's concerts, make time to go. And if you've yet to hear of Beautiful Textures hair care line, put them on your radar.
Have you tried Beautiful Textures? Are you a K-Michelle fan? Leave a comment and share your thoughts on Beautiful Textures, K Michelle or both.