At 4cHC (for those who are new, that is the acronym for 4c Hair Chick), our focus is on documenting the individual stories that collectively make up the natural hair movement.  Our point of view is of a type 4 textured natural, but we explore and tell stories that are universal to natural hair enthusiasts.
In the world of online magazines and personal blogs, there is a mini revolution going on.  Websites like NecoleBitchie, Essence Magazine and Fashion Bomb used to corner the market in terms of monthly traffic and audience sizes, but now more and more women of color are spending time on haircentric websites such as Afrobella, K is for Kinky and Black Girl Long Hair.
Alma Rudduck is the entrepreneur behind one of the UK's fastest growing haircentric websites, Black Hair Information. Her and her team of writers do an outstanding job (in our opinion) of breaking down hair techniques and offering useful hair tips for naturals of all hair types.  We asked Alma to sit down with the 4cHC crew and share with us the details on how Black Hair Information jumped off.  As we like to do, we also asked Alma to weigh in on a few hot topics in the natural hair world.

Q&A:  Alma Rudduck, Founder of Black Hair Information
How did Black Hair Info come to be in existence? What prompted you to start it?
I started the website a few months after I started a healthy hair journey of my own. It was originally meant to be a place for me to organize my thoughts on how to properly care for hair. To my surprise as time went on, people began to visit the site and find value from it which propelled me to continue creating content to help other women going through their own hair journeys.
What is your main goal with the website?
It's probably going to come across cliche but right now my goal is to reach as many women of color as I can about healthy hair practices, natural hair and the fact that anyone can have long healthy hair of their own ("long" being very objective of course).
I don't just mean the web savvy healthy hair journeyers who are already subscribed to seven blogs but the random girls and women on the street to whom it's never occurred to them that black hair can actually be healthy, beautiful and long.
Are you natural?
Yes I am.
How long have you been natural? 
My last relaxer was in June/July of 2008 so approximately 5 years.
When you first went natural was there anything in particular that you struggled with in regards to your hair?
Honestly I can't say that I struggled much. I remember being stunned at the sheer volume of my natural texture compared to my relaxed hair 12 months or so into my transition. However, because I was doing research and writing about hair all at the same time, I was programming my mind to accept whichever texture I turned out to have. Yes I'm one of those naturals who couldn't remember their natural texture from childhood!  It took a while to find my feet of course. I became and probably still have a few product junkie tendencies but now I have staple products that work very well with my hair and I can say that I am a more "mature" natural with the way I care for my hair and the products that I choose to purchase.

What is your hometown?
I'm an ex Londoner living in Birmingham, UK.
What are your thoughts on the "natural hair movement?"
My sister was actually part of the initial wave of recruitees in the very early days of the movement, circa 2004 but I didn't decide to transition until 2008. I think that as a whole the movement is doing positive things to increase awareness about the beauty of natural hair and supporting ladies to transition easily.
On the other hand, there are a group of naturals who take things a bit too far by looking down on ladies who choose to go about their natural journeys differently from them. For instance, some ladies will choose to go natural but wear wigs/weaves most of the time until they are comfortable enough or their length is long enough for them to want to wear their own hair out. Some may choose to flat iron or even color their hair regularly. In my view these women are not any less natural than a lady who wears her natural texture 24/7.
The way I see it is that even though I am a natural hair enthusiast now, it took quite a while for my eyes to be opened and to REALLY see the beauty of natural hair. I am not so vain as to imagine that everyone else sees the world through my eyes and I am well aware that others even after being exposed to gorgeous kinks and curls regularly, will still remain indecisive or staunchly against natural hair. It may take a while for some people to be able to visualize themselves as natural and eventually make the decision to transition. But having a superior attitude just because someone doesn't see things exactly like you do ultimately helps no one.
The change in mindset won't happen for everyone of course and there are those who will always relax their hair or wear weaves but they are no less worthy than you or I and I think that they deserve acceptance that they are making the right decisions for them.
Tell us three things about you that we can't Google to find out
I don't watch horror films, not even comedy horror like the Scary Movie franchise because I find them genuinely scary!
I have a phobia of slugs & snails (I can barely type this without having a shiver down my back).
I am allergic to most metals so my wedding ring is made from titanium.
Name three YouTube channels you recommend
Naptural85 – She's just fab.
LHDC-TV – Her hair is very similar to mine and I love her tutorials.
Haircrush – Come on now, she's got a glorious head of hair!
There are discussions popping up on YouTube about a Texture Hierarchy in the natural hair community. What are your thoughts on that are some textures perceived to be more desirable than others? 
Oh there is definitely a bit of texture hierarchy in the natural community. I think it's probably a combination of human nature, wanting what you don't have and perhaps because looser textures are considered to be easier to care for.
Unfortunately, many of us type 4 hair ladies don't have true wash and wear hair because of the tangling and shrinkage that goes along with our textures particularly as our hair gets longer. One could argue that the only true naturals are the ones wearing their shrunken Afros daily regardless of length.  But this is neither practical nor conducive to healthy hair goals because lots of shrinkage amounts to lots of tangling and as such lots of breakage, splits and rips. This means that majority of us type 4 naturals are styling our manes in curly styles like braid outs, twist outs or other curly sets which are more stretched and which if we are honest, essentially resemble a looser texture than our own.  You can see how it would come across as odd for a 4b naturalista to style her hair in what looks like 3c curls weekly or stretch their hair with twists, braids, banding or heat in order to wear it. These are all significantly different from how our hair would behave naturally. So on the one hand it's understandable why some ladies would envy those looser curls because they would make their wash days faster but on the other hand it leads to an unhealthy relationship with your own hair.
Yet there are many type 4 naturals who after the first few years of fighting their hair at every wash have finally understood their hair enough to love it exactly as it is as they continue to style it in curly or stretched styles AND in spite of the challenges that come along with caring for a kinkier texture.
I suppose what I am saying is that the texture hierarchy is probably something that happens with newer naturals who do not yet know their hair well enough and are probably struggling somewhere in their regimens. As always I believe that they too should be given support and advice to allow them to deal with their "hair dysmorphia" (is that even a thing?) until they get to the acceptance stage.
What's a common hair question you get from your audience?
"What product do you use to make your hair grow faster?" We get at least 3-4 variations of these daily!
What do you think is the biggest myth about natural hair?
The biggest myth I suppose is that a lot of women believe that just by going natural they will automatically grow their hair long. But as we know, even with a really "good regimen" length retention can be tricky for some of us with certain aspects having to be tweaked in order to see length. I know this because with my sister, a natural 4b, we had to remove braid outs on wet hair and switch to simple bunning on stretched hair before we began to see some decent retention.
Name three hair products that are in your bathroom right now.
My fabulous braid spray recipe with aloe vera juice & glycerine amongst other goodies. Nothing is more effective for my hair!
What is a must read article on your website for type 4 naturals?
Aaargh, what a difficult question to answer! We have so many good articles written by many lovely writers it's difficult to pick just one. But since I'm the one being interviewed, I will pick one of mine hehehe!
The article is titled The Healthy Natural Hair Pyramid.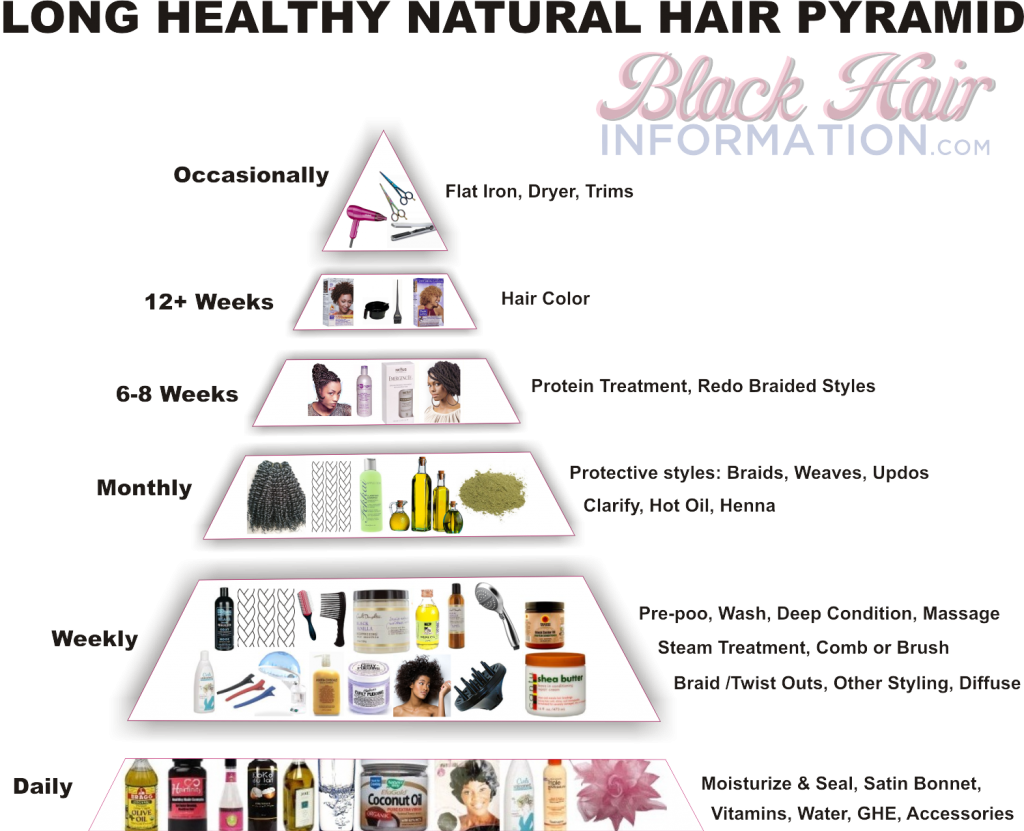 Essentially I created it to give women a snapshot look at what a decent hair regimen looks like. Of course there are individual variations but by and large I feel that this is an accurate representation of a good hair regimen. It also happens to be the most linked to article on our site!
For more articles from Alma Ruddock, visit her website Black Hair Information.