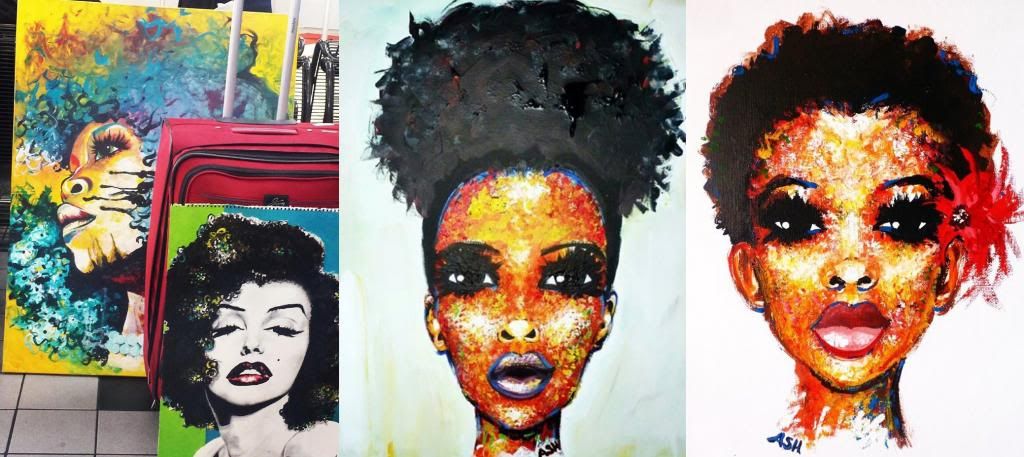 Ash The Painter is an amazingly talented artist.  I absolutely love her work and so that is why I ordered a portrait from her. Little did I know that I would get caught up in a customer service nightmare. 38 days after payment for my order and waiting on a status email she informed me that she would not be able to do the order so she'd issue a refund. 52 days after payment I'm still waiting on my refund.
**This is a long post, but I've included all the facts so you could have the full story. If you a reading from a cell phone and can't view some images in full try reading the post via laptop or desktop computer**
For those of you who know me you know that I prefer to shop small business over mainstream. Since I regularly shop small business I know there can be some bumps and hiccups because often times small businesses don't have the resources that large businesses do.
But this particular situation has me at my wits end. Not because of the delays; this is not my first time buying art it can take up to six months or longer for a painting so the delay is not why I'm displeased. The reason why I am displeased is because of the complete runaround I've been getting.  I'm literally exhausted with this whole situation.
In this post I'll only be presenting facts so that those who choose to read this can form their own opinions. As a natural hair website editor my job is to keep readers informed so that they can make informed decisions. To that end I've decided to share the details of my experience with Ash The Painter.
Here are the Facts:
On Sept 2nd I ordered a portrait painting from Ash The Painter.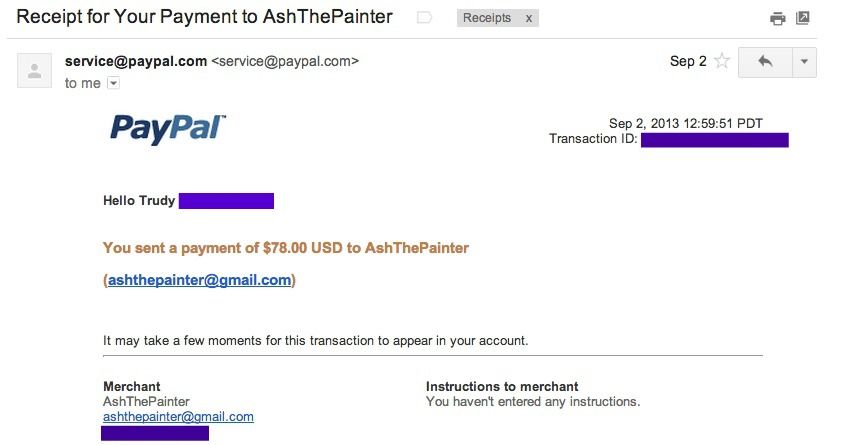 I wanted to order a digital copy of a painting to use on a t-shirt as gifts for my nieces over the holidays. I reached out to Ash via twitter for pricing and details. Her and I ultimately corresponded via text message and ironed out the details. Here are the text messages we exchanged.
Following this message we had a few more text messages about shipping costs and details and then we exchanged messages about file format for the digital image. Ash asked me to email the file format detail. So I paid for the portrait via her website as she instructed me to and I sent her an email with the digital image specs.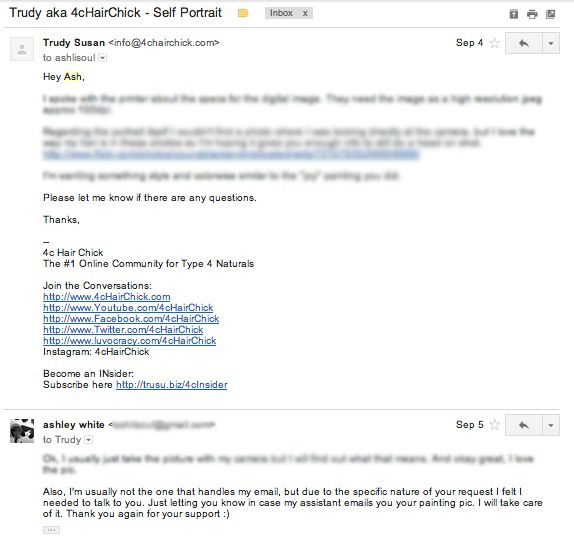 Sept 5th Ash emailed me explaining I'd most likely hear back from her assistant.
Sept 11th I sent this email message to Ash basically asking when should I expect the order to be fulfilled.
Sept 22nd I contacted Ash via email because I did not receive a reply to my email from Sept 11th.
October 8th I text messaged Ash because I did not receive a reply to my Sept 11th or Sept 22nd email.
Oct 9th I emailed  Ash inquiring about my order status because I had received no reply to my last two emails or to my text so I was still in the dark.
Oct 13th I tweeted Ash because I had tried email and text and had yet to receive a reply.
Finally after 38 days of no responses I received a tweet back from Ash on Oct 13th and in that message she asked me for my email address.  I replied back the same day Oct 13th with my email address.
After our exchange on Oct 13th I anticipated an email. I did not receive an email so on Oct 15th I sent another text message.  Below is the conversation we had.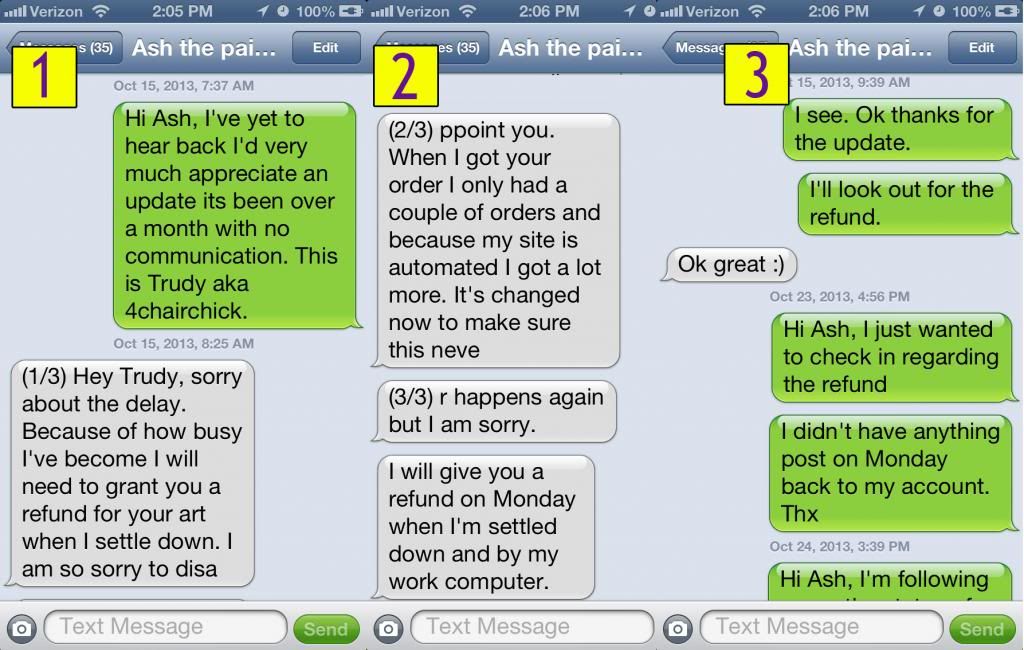 As you can see from the text messages above on Oct 15th which is a Tuesday Ash shared with me that should would issue the refund for my art on Monday, Oct 21st.
By Wednesday, Oct 23rd the promised refund still had not posted to my account so I sent Ash a text. No response.
Oct 24th I sent another text. No response.
Oct 25th at 10:32 EST I received the below response:
By 3pm on Oct 25th I hadn't gotten another reply from Ash after sending my email address so I sent her another text on on Oct 25th. No reply.
Oct 26th I sent another text. No reply.
Oct 27th I sent another text. No reply
Oct 28th I sent another text and finally a reply. Below are the text messages we exchanged: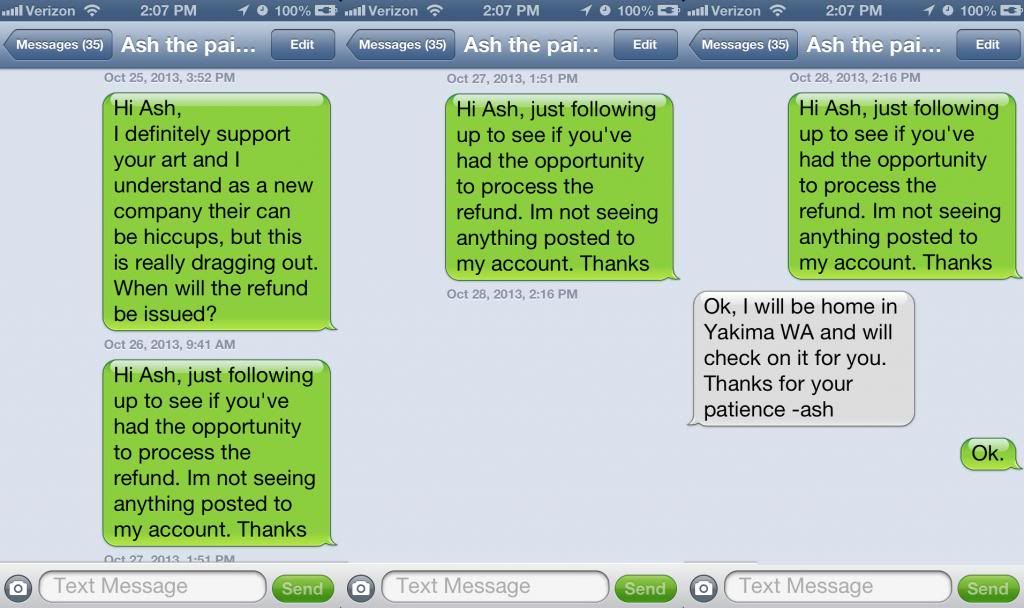 It's safe to say at this point I was officially frustrated. It had been over 45 days since I placed my order.  First it was no problem I'll send it. Then it was I'm busy too many orders I'll do a refund. Then it was you'll get the refund Oct 21st. Then it was ok I'll do it today send me your email. Then it was I'm headed back to Yakima I'll call you….
As of today Nov 2nd I still don't have a refund. Yesterday after Ash texted me the "Ok" message she finally called. She explained to me about how she has been busy and how I need to be patient. She described how if I was supposed to get a refund from Sprint it can take up to 30 days so comparatively her two plus week delay on payment isn't as severe.  I tried to explain that her being busy and her comparisons to Sprint were not relevant. All I know is that I had been told on more than three occasions a refund would be issued and it had not been.
When I got off the call with Ash yesterday (Nov 1st) she shared the refund would be processed over the weekend.
A short while later after our call Ash sent me an apology about the whole fiasco and she told me she'd call at 6pm PST time to issue the refund. At 6:30 she called got my email address and first and last name and assured me that within 30 minutes I'd get an email confirmation for the refund. 12:14 am she texted me back saying her website is down so she won't be able to do the refund until she gets that issue sorted out.
I've stopped responding to her text messages because unfortunately she's yet to do anything she said she'd do.  To her credit since her apology yesterday she has made the effort to keep me informed of what is going on.  I guess the part that I don't understand is since when is it this complicated to sign onto Paypal via phone or laptop and press the refund button?… She shared with me that I'm not the only one with an order issue and my first thought was if you have multiple unfulfilled orders why were you on a two week nationwide art tour? Why aren't you at home resolving the issues at hand?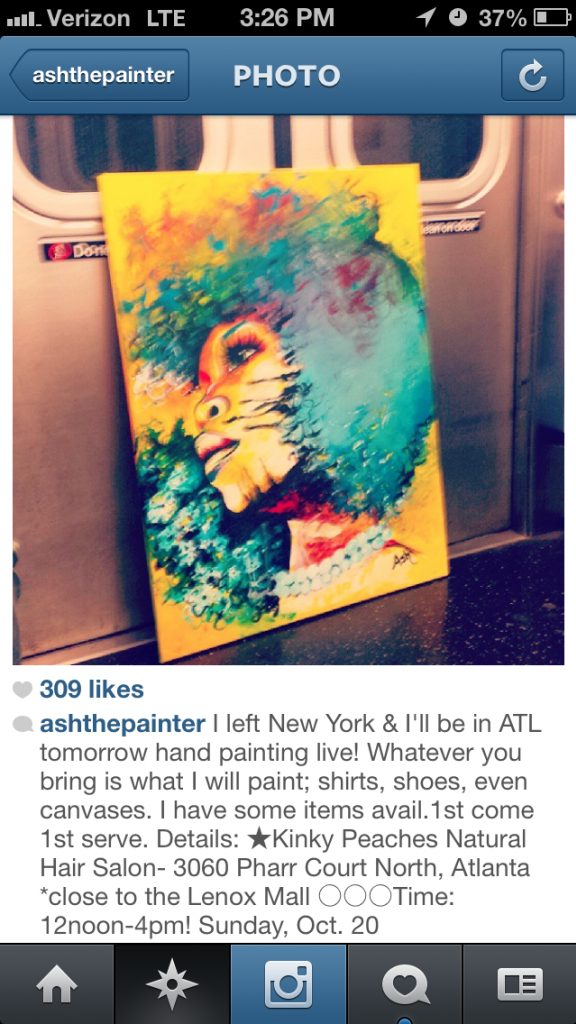 At first I felt extremely torn about doing this blog post so much so that I took an evening to pray about it.  I hesitated to do it because my intent isn't to ruin Ash's career (not to say I even could), but my intent is to bring to light that if you plan to place an order from Ash The Painter there is a serious backlog right now.  You can't expect a reprieve from people when your taking new money daily and you have orders that have not been processed.  It's not acceptable. So all I'm saying is stop everything and fix the backorder/backlog issue you have and then reopen for business.
After you fix what's broken I'll be happy to give you a second chance. It will be with trepidation, but I'm not perfect and so I don't have that expectation for others. I just want to be treated fairly and when there is an issue I want to be informed and I want to see the issue resolved.
You know Back before I ever placed an order from Ash I sent her this email:
She never responded…
Well, Ash this is my unsolicited advice.
Shut down your website.  Halt all orders. Get a business consultant to help you construct an operations plan. Make sure you get someone who understands supply chain management. I'd recommend you outsource order fulfillment, but if you want to keep it in house get a consultant to help you structure that. Once you've got that done reopen for business. And if you don't have enough money to do that post up a Kick Starter Campaign and get you some angel investors.
Meanwhile, I'm still waiting on my refund…TO BE CONTINUED
Fam, what you would do in this scenario?